Hatching
The first egg will begin to pip after 17 days. The squeaker uses an egg tooth to hammer his way out of the egg. One day later, he will crawl out of his shell. After the first one is hatched, the second one will begin to pip his shell.
The cock and hen will both feed the squeakers pigeon milk. Pigeon milk is partially digested grain which forms in the parent's crops. The squabs grow fast. By the time they are 5 to 7 days old they will be covered with quill feathers and are ready to band.
As the days pass, they will reduce the amount of milk and feed the squabs more and more whole grains. The parents also will be eating more and more, so be prepared to increase their feed ration.
In 5 weeks, they will be ready to fly and the parents will be back on another set of eggs. The squeakers are now ready to wean. Just move them into your young bird section. They will be eating and drinking as well as the adults in a few days.
Back to the Beginners Handbook
More articles you may enjoy: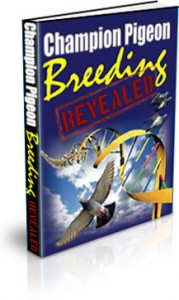 The only way to attain real longevity in the sport of pigeon racing is to breed your own champions. By mastering the practice of breeding, you'll have the ability to control quality, quantity, and most importantly, performance. Whether you want to establish a solid reputation as a top breeder or you are looking to sell your pigeons and generate huge profits, you need to know all the facts.  
 Champion Pigeon Breeding Revealed takes you through a straightforward, outlined explanation of everything you need to launch your winning team. No more guessing or trial and error. Just powerful methods that are designed to unleash the champions in your lines and set them on a course to non-stop success!
Click Here to Check it Out Now