Hatching
The first egg will begin to pip after 17 days. The squeaker uses an egg tooth to hammer his way out of the egg. One day later, he will crawl out of his shell. After the first one is hatched, the second one will begin to pip his shell.
The cock and hen will both feed the squeakers pigeon milk. Pigeon milk is partially digested grain which forms in the parent's crops. The squabs grow fast. By the time they are 5 to 7 days old they will be covered with quill feathers and are ready to band.
As the days pass, they will reduce the amount of milk and feed the squabs more and more whole grains. The parents also will be eating more and more, so be prepared to increase their feed ration.
In 5 weeks, they will be ready to fly and the parents will be back on another set of eggs. The squeakers are now ready to wean. Just move them into your young bird section. They will be eating and drinking as well as the adults in a few days.
Back to the Beginners Handbook
More articles you may enjoy: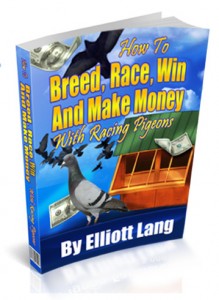 Have you ever wondered why the same fanciers always seem to win?
It's time you learned the amazing secrets that keep these top fanciers winning race after race.  It's time you were let in on the secrets they use to turn their pigeons into super-fast, homing rockets (even their worst pigeons are winning races!).
You will discover how to really understand your birds, how to select the 'winners', how to exercise and train them… What is the best diet, how to ensure the strongest eggshells… the best breeding pairs and much more.
You'll find everything you need to know to become a great pigeon fancier inside this formidable eBook:
You'll discover the tightly kept secrets that ace pigeon fanciers use to breed race winning birds that consistently net them those cash prizes.  Follow in the footsteps of the professionals and start seeing your pigeons at the top of the leaderboards.
What are you waiting for?
Click Here to Check it Out Now