Hatching
The first egg will begin to pip after 17 days. The squeaker uses an egg tooth to hammer his way out of the egg. One day later, he will crawl out of his shell. After the first one is hatched, the second one will begin to pip his shell.
The cock and hen will both feed the squeakers pigeon milk. Pigeon milk is partially digested grain which forms in the parent's crops. The squabs grow fast. By the time they are 5 to 7 days old they will be covered with quill feathers and are ready to band.
As the days pass, they will reduce the amount of milk and feed the squabs more and more whole grains. The parents also will be eating more and more, so be prepared to increase their feed ration.
In 5 weeks, they will be ready to fly and the parents will be back on another set of eggs. The squeakers are now ready to wean. Just move them into your young bird section. They will be eating and drinking as well as the adults in a few days.
Back to the Beginners Handbook
More articles you may enjoy: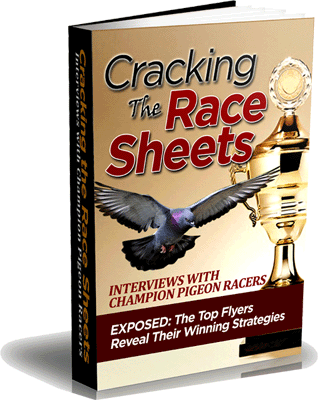 Cracking the Race Sheets shows you the insider secret's that the champion's use time and time again to consistently dominate the race sheets. Cracking the Race Sheet's is an in-depth question and answer session with 9 of the most decorated and winning champion fanciers of our time. We put them under the microscope and persuaded them to reveal to you their own pigeon racing formulas on how they became so successful in this sport.
All together these champion racers have won nearly every single major pigeon race and event in existence and have bred some of the most sought after bird's on the planet and Carcking the Race Sheet's gives you an over-the-shoulder look at how they do it.
They actually give us the blueprint to their success and reveal their winning strategies. Cracking the Race Sheets is a must for any serious fancier and is truly one of the most powerful resources a fancier can arm themselves with. >> Click here to learn more
Click Here to Check it Out Now