Pigeon Egg Incubation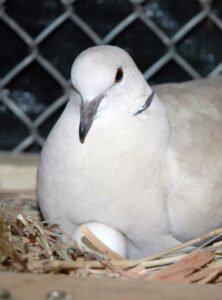 After about 10 days from mating, the hen will lay her first egg. If it is not freezing outside, she will probably not sit on it all the time. She will skip a day, and then lay her second egg. Now she is ready to sit tight and incubate both of her eggs.
There are exceptions to every rule, and here is an exception. Remember when we mentioned that it was important to know how much your birds ate? Now, you will notice some extra feed being left in the trough. Here is the exception to the rule about leaving left over feed in the trough. Leave the food ! Some hens and cocks sit so tightly on their eggs or squeakers, that they will not go to eat until their mates are finished eating. When the mates are full, they will come and trade places and sit on the eggs or squeakers while the pigeon previously sitting on the nest can go and eat.
The hen will sit on the nest from late afternoon until mid morning. At mid morning, the cock will go into the nest and take over for a while. Now the hen can stretch and relax. Late in the afternoon, she will return to the nest and take over once more. During this time, both the cock and hen begin to form pigeon milk. This milk is made from partially digested grain. They will pump the milk into the newly hatched squeakers when the squeakers place their bill into the bills of their parents.
Back to the Beginners Handbook
More articles you may enjoy:
What is the ONE thing that ALL champion fanciers have in common?…
…They All Keep Good Records!
Record keeping allows you to consistently better your birds and race teams performance.
With proper record keeping it allows a fancier the ability to look back at all of your bird's past training, racing and breeding performances and see which bird's performed the best and which didn't.
Here are 8 Proven Record keeping templates that are essential for any fancier and easy to use and are the same exact record keeping templates the champions use to document their bird's performance. This is everything you need to keep world class records of all your bird's!
Click Here to Check it Out Now