In this video Dennis from Hawkbait Lofts shows us how he vaccinates his young birds with the PMV (Paramyxovirus) vaccine. He uses a standard syringe with a 22 gauge needle and injects the vaccine just under the skin between the leg and the body he calls it the "web". He says you may notice the vaccine bubble under the skin but the body will slowly absorb the vaccine and start the immunity process against PMV. Dennis' tip "don't go to deep".
The Leading Online Pigeon Racing and Racing Pigeons Magazine – The Pigeon Insider
More articles you may enjoy: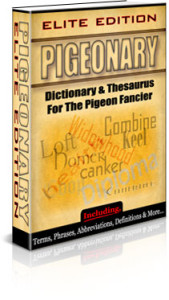 The Pigeonary is a complete collection of all the important pigeon racing terms and definitions that any pigeon fancier needs to familiarize themselves with.
If at any point you come across or hear a word at the club that you don't recognize you can easily refer back to the Pigeonary for a detailed definition.
We want all pigeon fancier's to succeed! and A dictionary is a very important tool for anyone who is learning and wants to be successful in a new subject and pigeon racing is no exception. In order to succeed and get the most out of pigeon racing and all the information you will read you really need to understand what you are reading.

Click Here to Check it Out Now