*Video* Weaning Baby Racing Pigeons
Here is another great video from Lavender Hill Lofts on how they wean their babies. In this video your going to see how they use other adult pigeons to help them wean the youngsters. The start this process when the youngsters are between 15 and 18 days old, this will help them become independent and also will help to take some of the preassure off of the parents. Click the video below to check it out.
*Video* Weaning Baby Racing Pigeons
The Leading Online Pigeon Racing and Racing Pigeons Magazine – The Pigeon Insider
More articles you may enjoy: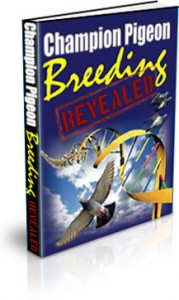 The only way to attain real longevity in the sport of pigeon racing is to breed your own champions. By mastering the practice of breeding, you'll have the ability to control quality, quantity, and most importantly, performance. Whether you want to establish a solid reputation as a top breeder or you are looking to sell your pigeons and generate huge profits, you need to know all the facts.  
 Champion Pigeon Breeding Revealed takes you through a straightforward, outlined explanation of everything you need to launch your winning team. No more guessing or trial and error. Just powerful methods that are designed to unleash the champions in your lines and set them on a course to non-stop success!
Click Here to Check it Out Now