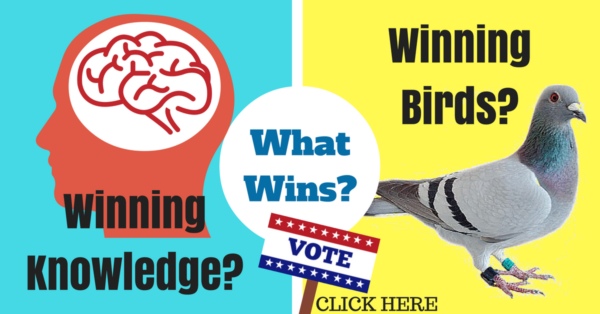 Hey fellow flyer and lover of the sport!
I have been running the Pigeon Insider for close to seven years now and over that time I have had the
pleasure of meeting, talking to and interacting with many fanciers both new and old.
Over that time and through all of my countless conversations with flyers from all over the globe there seems
to be a split in opinion about a certain topic. So because I love the Pigeon Insider family and i know we
have some of the most amazing fanciers in the world I wanted to open the discussion up to you and hear what
you have to say about it.
So, the question is…
What do you think is more vital to being successful in the sport of pigeon racing?
Is it having a strong foundation stock in your loft?
or…
Is it having a strong knowledge base of how to run and manage a winning loft?
But let me make it even clearer for you…
Basically, what would you rather have, a loft with proven winners or descendants of proven winners or would
you rather have a winning knowledge base with birds that have no prior history of results.
So what do you think wins… Winning Pedigrees? or a Winning Mindset?
Of course I know many people are going to say that having both is the "perfect storm" for success but the question here is one or the other.
So I'll open it up to you now, simply use the poll below to choose your selection and click the "Vote" button
to submit your answer, then after you have done that scroll down to the comments section and let me know why
you choose that answer.
I as I'm sure you as well really look forward to seeing and reading the results of this poll.
So go ahead and submit your vote and comment now!


Loading ...