Old and Young Bird Racing System
Old Birds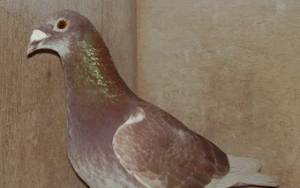 I race 16 pairs of cocks and hens. I stop the yearling at 350 miles, two years and older go all the way. I pair the birds mid febuary and they raise one youngster in the nest. When the youngsters are 24 days old I move them to thier section. One week later I start training the old birds up to 20 miles 3 times a week. After a few races they excersise around the loft for 30 minuetes. Racing on natural system a few, if any, birds begin to show signs of fitness until after casting the first primary flight feathers.
Some birds will race well after sitting on their eggs for a week. Others on eggs that are just chipping, some when they are feeding young birds for about a week old, yet others when they have a single big youngster to feed. The feeding is Saturday and Sunday depurative and then back to the racing mix. Once a day after the evening excersise, Saturday after racing they get glucose and a tea spoon of salt and honey in the water, multi vitamin in the water twice a week, Cod Liver Oil over the corn on Wednesday. All birds are treated for Canker, Coccidiosis and worms 4 weeks before pairing.
Young Birds
Young birds from stock are hatched in January, I breed abut 30 of them. They are trained 3 weeks before racing upto 20 miles twice a week, more if possible. When they are not training they are excersised around the loft for 1 hour. Young Cocks are raced upto 150 miles and the Hens go all the way. They are fed on Gem Young bird product. Moulting mixed is used straight after racing season and birds only go out once a week for a bath. All my birds are vaccinated with Nobivac.