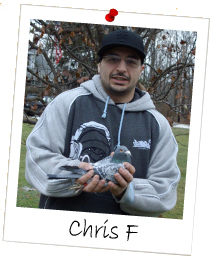 Hello Pigeon Racing World,
I just wanted to introduce myself; my name is Chris I created The Pigeon Insider to share my pigeon racing passion with the world, and to share my passion with the rest of the pigeon community.  
MyStory,
I personally got interested in pigeons a few years back, my uncle had a pigeon loft and as a kid he used to keep pigeons on the rooftop in brooklyn NY, after moving upstate he built a loft in his backyard and this is where I was first introduced to the world of pigeons. To be completly honest with you I really didn't understand anything about it and I didn't even see what he liked about it. Anyway a few months later he purchased a bird from Oklahoma and put it into his loft, about three days later he opened the door to the loft to feed his pigeons and the bird he just bought from oklahoma escaped. About one week later the breeder that he bought the bird off of called my uncle up and said "didn't I sell you a bird" and he recited the band number my uncle responded "yea but he escaped from my loft last week" and the breeder said "well…he's back!"
 
After escaping from my uncles loft in NY, the pigeon flew all the way back to oklahoma! I was completely floored and my passion for pigeons was born. Not only could I not beleive that the pigeon flew that far but it actually found his way all the way home. I was hooked from that moment on.
 
They really are amazing creatures I know first hand and that is why The Pigeon Insider was created. Please feel free to check out the site and comment we would really love to hear from you.
My Goal,
The goal of The Pigeon Insider is to help preserve and promote the pigeon racing sport and hobby as well as bringing awarness to the general public. I also hope that this site will help to educate pigeon fanciers. I haven't been involved in pigeon racing for that long so I still have alot to learn but one of my favorite things to do is talk with champion and successfull fanciers which I have had the pleasure of doing and sharing what I learn from them along the way with the rest of you.
Again, my name is Chris and I look forward to meeting and hearing from you fellow pigeon fanciers, please feel free to contribute to this blog by commenting and posting I would really love to hear from you.
Thanks for visiting,
-Chris (Contact Me)
Sign up for the Pigeon Insider Newsletter, click here to learn more.