T-Shirt and Pigeonary Giveaway is LIVE!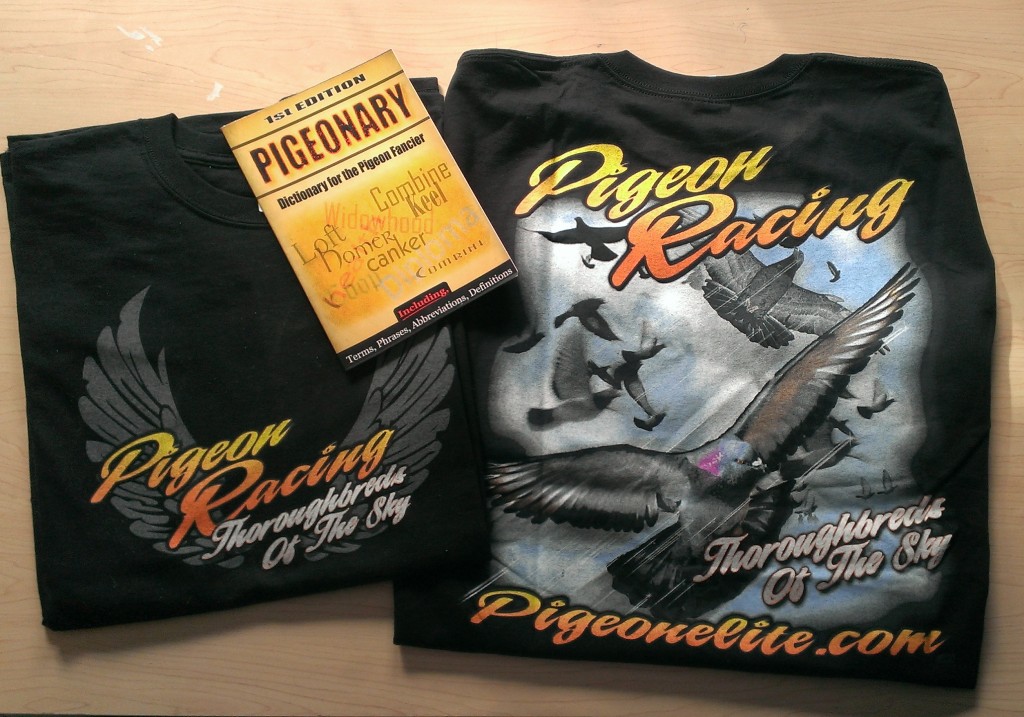 Hey Friend's
As you know this week we launched a brand new product for 2014 called "Cracking the Race Sheets" which is a compilation of 9 of the most informational interviews I have done with some of the most winning champion fanciers of our time.
We want to help fanciers get the best information possible to really ensure that all fanciers can be successful in this sport and this product is designed to help you do just that. Not to mention it also comes with 2 amazing bonuses which are The Practical Guide to Pigeon Racing and our set of 8 Loft Management Record Keeping Templates to really help you "Crack the race sheets" this year and really become a winning pigeon fancier!
You can read more about the product in a bit but the real reason for this post is to tell you about a giveaway that we have put together for this product launch!
We are giving away 5 sets of our famous Pigeon Tee's and Pigeonary's
For everyone who purchases the cracking the race sheets product you will instantly be entered into this giveaway. Not to mention that we may be adding prizes to this give away in the next couple of days as this launch comes to an end.
The Shirt is amazing and is super high quality screen printed graphics full color both front and back and features our winged crest on the front and pigeons racing through the sky on the back. It also features the saying "Thouroughbred's of the sky" to let people know that pigeon racing is the real deal. This shirt is truly amazing both in quality and design and I know you are going to love it!. These shirts are exclusive to the Pigeon Insider and cannot be found anywhere else.
Along with the shirt we are also giving away 5 copies of our physical Pigeonary which is a Dictionary written specifically for the pigeon fancier. The Pigeonary is 61 pages and features over 250 pigeon terms complete with detailed definitions for each and also includes common phrases and abbreviations. This really is a powerfull and complete resource for any fancier and is a must in any fanciers library. The Pigeonary is exclusive to the Pigeon Insider and cannot be found anywhere else.
All together we are giving away 5 sets of these bundles! each prize is a $44 value.
So go ahead and click the link below to learn more about Cracking the Race Sheets then when you place your order you will automatically be entered into this drawing.
We will announce the winner's after the launch has ended.
And don't forget to keep an eye out for emails from us as we may be adding prizes to this giveaway as we get closer to the close.
P.S. and just a reminder the price does increase on Sunday so make sure to take advantage of the special launch price that we have going right now.