Pigeon Racing and Nutrition of the Muscle Part 3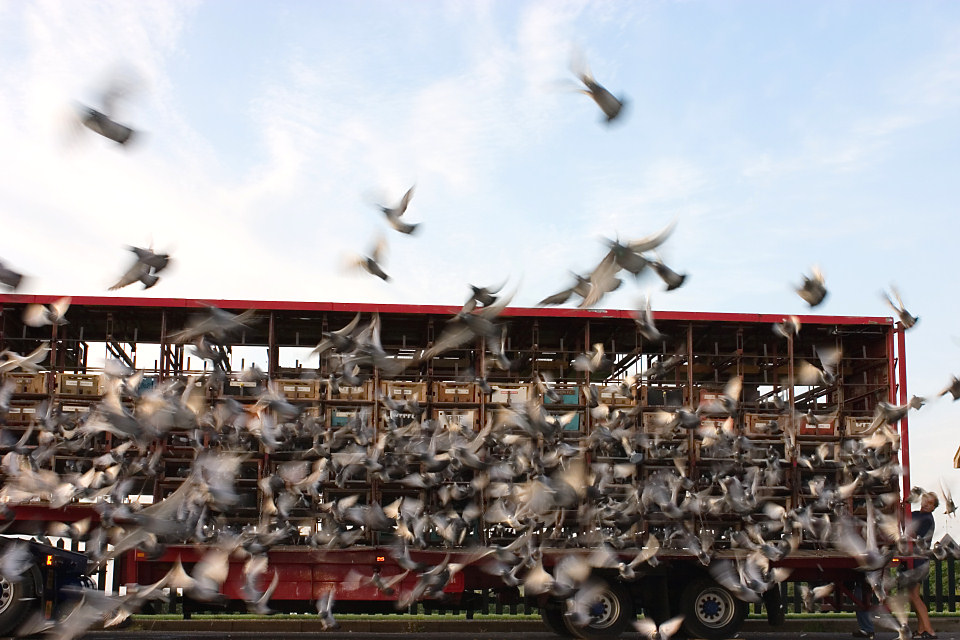 On the other hand, we note that the large individual white fibers have relatively few blood vessels running over their surfaces and that they have a very poor capacity to use oxygen, the burning of fuel, the burning of fuel, because they contain very little myoglobin. In contrast to the red fibers, these large white fibers function (twitch) RAPIDLY. As you might expect, because of their capacity to respond quickly, white fibers also tire out very quickly, and for this reason, it is important to understand that they can in no way be relied upon for sustained flight. If they do not function during prolonged muscular effort, what is their major role? Since white fibers twitch rapidly and tire quickly, they seem to be most important and useful during muscular effort that requires very rapid and even explosive bursts of activity. Thus, white fibers are those that likely operate most effectively to help launch a bird into the air and allow it to dodge in the wink of an eye when it encounters predators, power lines and other obstacles. When your youngsters are dipping and diving in a frenzy of activity and are all over the sky in a flash, these functions are probably handled primarily by the white fibers.
Another important function of these fibers is in the production of heat in cold weather through the familiar process of shivering. The trembling wing tips of a in good physical condition are another example of the function of white fibers. Both of these situations are good examples that illustrate the rapidity with which these fibers operate and just what is meant by fast twitch fibers!
Now, if we were to make use of an electron microscope and magnify and photograph many thousands of times, both the red and white fibers, we would see some further striking and highly important differences between the two. In looking firstly at the red fibers, we see that they contain many somewhat oval structures that ten to be present in chains, like beads on a sting, and that these structures are often separated from one another by what, at first glance, appears to be an empty space. The oval structures are known as mitochondria that, for our purposes, can be compared to a series of furnaces. Naturally, every furnace needs fuel and these "biological furnaces" are no exception. When we look closely, we see that the "spaces" between some of the oval "furnaces" are not spaces at all, but are actually droplets of an abundant and obvious source of fuel. It may come as a surprise to many fanciers, but that fuel is, infact, none other than FAT ! Given the historical ( and incorrect) belief of some fanciers that protein is the major fuel for racing, hence, the traditional emphasis by some fanciers on the use of high percentages of peas and beans as fuel feeds in racing rations, at the expense of cereal grains this information may be even more surprising. As we continue to examine the fine structure of the red fibers, we see that they also contain a considerable number of granules that have been identified as glycogen, a complex carbohydrate (or sugar) composed of many smaller units of the sugar glucose, sometimes also called, dextrose.
The importance of fats as the major fuel for racing, or for any prolonged flight, such as that of migrating birds, cannot be over estimated. For example, there is a small songbird known as the blackpoll warbler that nests each year in the Yukon and Alaska. As fall approaches, these tiny birds work their way diagonally south and east across the continent of North America, feeding and building fat reserves as they travel, until they reach the Atlantic provinces of Canada and the New England states in the USA. When fat depots are filled to capacity and the birds are much heavier, they wait for a high pressure cell moving in from the west and accompanied by winds from the north or northwest. When all is ready, the birds launch themselves into the air and head out over the vast Atlantic ocean. Only when they reach landfall three to five days latter, on the northeast corner of South America, do they touch down again, after an incredible non stop journey for such a tiny land based bird weighing less than two thirds of an ounce! Without fat, this amazing journey of over 2,400 miles (3,900 Km.), simply could not take place.
Pigeon Racing and Nutrition of the Muscle Part 3 By: Gordon A. Chalmers DVM
The Leading Online Pigeon Racing and Racing Pigeons Magazine – The Pigeon Insider