Article provided by Frank McLaughlin of McLaughlin Lofts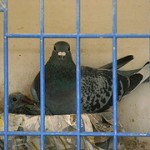 Widowhood racing has been around for nearly 80 years or more. When traveling in Belgium a few years ago I watched a film made in the 1930's for the World's Fair.  Racing widowhood was featured and identical to how we race now right down to the nest fronts.  The misconception was widowhood was a big secret until the 1950's.
Racing straight widowhood (only cocks) is the most productive and efficient way to race pigeons.  Every other system favors the hens.  Widowhood favors the cocks.  To race old birds you must race a system.  The best is Widowhood, followed by double widowhood, then celibacy and last and it should be least is the natural system.  That's right every system is more favorable than the natural system.
Many fanciers claim that their hens excel for them so they do not want to change to widowhood.  The natural system favors the hens, celibacy favors the hens, and double widowhood favors the hens.  Get my point.  If you race a system that favors the hens your hens are going to be your better performers.  Straight widowhood favors the cocks and will beat the other systems regularly.  For many years I have said I could put everything needed to know about widowhood on one page.   The following article does just that.
The number one question and dilemma is should I mate the cocks, raise babies, just eggs, one baby etc.  Here is the answer.  It really does not matter.  This is what I do.  My cocks see the hens for the first time shipping night of the first race.  I keep it very simple.  My reasoning is with no hens I can train and fly the cocks whenever.  I use stock hens and extra unbroken hens for the cocks.  With no mating and rearing young I can keep the cocks very lean to escape the hawks.  My cocks do not waste energy rearing youngsters or driving hens.  As for the molt my cocks have usually dropped one maybe two flights by the last race so feather is not a problem.
The Leading Online Pigeon Racing and Racing Pigeons Magazine – The Pigeon Insider