Did you know that there is exclusive pigeon racing tips, tricks, techniques and strategies that you may be missing? But don't worry because today I'm going to show you how to get access to this exclusive content and join the Pigeon Insider Facebook VIP list for free in just 5 easy steps.
So go ahead and watch the video below then follow the 5 simple steps below to get our exclusive ongoing facebook content.

Step 1: Like the Pigeon Insider Facebook Page by clicking here then clicking the "Like" button (shown below) Once liked the thumbs up should turn blue.
Step 2: After you like the page hover your mouse over the like button, a drop down menu should appear (Shown Below)
Step 3: Click on the tab that says "Posts in News feed" (Shown Below)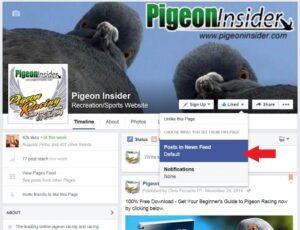 Step 4: A light box will open, tick the radio button that says "See First" (shown below) this will make sure that you get all new and exclusive content.
Step 5: In the same light box click the link that says "Notifications" (Shown "1" below) then tick the box that says "all posts" (shown "2" below) this will make sure that you get all the latest and exclusive pigeon racing techniques and strategies from the Pigeon Insider.
That's it! once you have followed those steps you will be on the Pigeon Insider Facebook V.I.P. list and will get all the latest and greatest and Facebook exclusive techniques and strategies that we post.