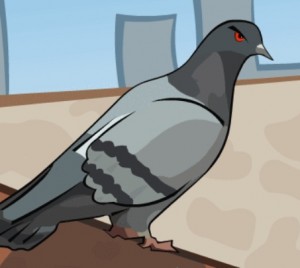 I'm not sure if you had a chance to check out the "Pigeon Insider 2013 update" yet but in it I went over a few things I have planned this year. One thing I touched on in that post was the pigeon racing game that I am working on having created. So in this post I wanted to discuss that more with you and give you some details on it and even get your feedback and help on a few things. So let's get started.
Sport growth is a must if we want to see pigeon racing continue and in order to do that we must continue bringing in new fanciers to the sport. In my opinion there are actually two future fanciers we should be targeting, young people and retirees. For reasons because I think young people can bring a great new energy into the sport and they have a great social aspect to their lives by social aspect I mean they will share their activities with their friends. And retirees have the time to spend on new hobbies and are always looking for fun, relaxing and exciting ways to spend that time and pigeon racing fits into this category perfectly.
In order to get in front of these two groups we need to get better at entering the mainstream. To do this we need to utilize the tools that are available today and use them to help show these groups how great our sport really is because up until now pigeon racing has been invisible. So for 2013 I will be focusing on helping show both of these groups how great our sport and community is and why they should get in on the action.
So how do we connect with the mainstream?…
we need to speak their language and be where they are. We have already successfully been doing this by utilizing social media and the internet. Things like Twitter, Facebook and pinterest are all fantastic tools and have already showed to work. Last year the Pigeon Insider has seen a bigger increase in new fanciers then ever before because of these tools. We have grown a great online community filled with fanciers from all over the world.
I don't know if you know this but right now there are over 273 million people in the US alone who use the internet and 518 million in Europe and can you guess what the second most popular thing these people do online is?…
If you said "online gaming" then you are right on the money! and it's only second to… you guessed it… social media which as I said before has already been proven to work in bringing in new fanciers to our sport.
Collectively in the US alone Americans spend 906 million hours on social networks and 407 million hours playing games online and again thats only in the US. The numbers are staggering, the internet and digital media has already surpassed print media and radio and is quickly gaining on television every single year at lightening speed.

So what does this all mean?…
It means that we must be present in these areas plain and simple. I know out of the millions of people online many of them will absoluelty love our sport but the problem is that they just haven't been exposed to it yet and I know this from experience because I myself have been there. I was a young outsider myself at one time and didn't know this world existed until I was exposed to it.
My plan for 2013 is to connect with these people by continuing to build our social media community through the Pigeon Insider Fanpage which currently has over 14,000 fans and our new Pigeon Insider Allstar Club which has quickly grown to over 700 members so far. You can help spread the word by joining both of those communities and liking and sharing those pages with your family and friends.
It's all Fun and Games!
As I said earlier online gaming is huge! and I think that creating a pigeon racing game will also be a great new and fun way to bring in new fanciers to the sport. Not only that but I think it will be fun for all of us as well. It will attract young and old alike.
I have already started working on this project, the goal of the game is to make it as close to our real life sport as possible. In this game you will be able to purchase and sell birds, train and race them. There will be a store where you can purchase feed, meds and vitamins to help your birds stay strong. There will also be a money and trophy system where you win money for placing in races which will allow you to buy better birds and a bigger loft.
The game play will consist of hawk attacks, bad weather, negative air currents and powerlines that you must watch out for and slow you down but also consist of positive air currents and powerups that will make your bird fly faster. There will be different club races that you must win a trophy in before being able to enter the bigger combines and one-loft races.
That's only a portion of the details, I hope you are just as excited as I am.
I am counting on you to help me tweak it along the way. As things progress with this game project I will keep you updated and look to you for your feedback in helping me make it a fun and exciting representation of our sport.
Unfortunatly projects like this take an aweful amount of time, money and resources so in the next few days I will be putting together a specially priced "gamer" package of all of our digital products. In this package you will be able to get every single one of our digital products for one low price, this will only be available for a short time only and has never been offered like this before. All of the proceeds will go towards the game project. It is not required but I do appreciate all the help you can offer, so please keep an eye out for that special gamer package coming real soon and please help us not only make this the best and only pigeon racing game out there but also the best game out there in general!. I know your going to love it.
Ok, so what I need you to do right now is help me name this game!, Please post in the comments section below your ideas for a name for this pigeon racing game.
So again keep an eye out for the gamer package and I hope your just as excited as I am and I will keep you posted on the details of this project.
Don't forget to post your ideas for a name for this game below, I look forward to seeing them and picking a winner!
Yours in the sport,
-Chris