Origin and History of the American Racing Pigeon Union Part 2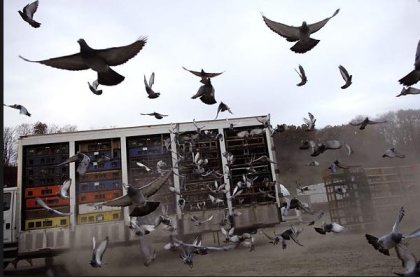 In 1891, Fred Goldman formed a "League of American Homing Clubs" which excluded individual members. In December of 1893 the League and the Federation were reunited under a "National Federation of American Homing Pigeon Fanciers." Goldman, who has been called the father of the racing pigeon sport in America, was the President of the Federation from 1895 to 1897. In 1897 Goldman procured patent rights to an English timer known as the "Halsted," a crude two-bird timer activated when the countermark was inserted.
Goldman was instrumental in causing the Federation to be incorporated with capital stock, with the stock proceeds used to purchase 600 Halsted timers. Thereafter, members of the Federation were required to rent the timers and use them in all flights recognized by the Federation.
In 1898, as a result of the incorporation, Federation officers were selected by stockholders rather than members. C. H. Jones, who had held the office of Race Secretary since 1892, and supplied the Federation with bands and countermarks, was not reelected. He immediately formed a competing organization known as The National Association of American Homing Pigeon Fanciers.
There was little difference between the Association and the Federation. Dues in both were $1.00 per year, each sold bands at a substantial markup, and the awards offered were almost identical. In 1909 the Federation had 833 members, while the Association had 1,053. The Race Secretaries of both organizations were efficient, autocratic, and became entrenched in office. The Halsted timer was used by both and, despite frequent and expensive modifications, was subject to manipulation.
In the early 1900s, as now, pigeon publications had great influence upon the sport and its organizations. Daily newspapers were quite willing to publish news but none had a circulation, which reached all fanciers. C. H. Jones published a monthly called "Pigeon Flying," but was careful to monitor the material printed and as the official publication of the National Association, his magazine was never critical of Association policies. The Homing Exchange, however, had the widest circulation of any racing pigeon publication, maintained an independent position, and printed all constructive, though critical, materials submitted.
Prior to 1909, numerous unsuccessful efforts were made to amalgamate the Federation and the Association and on several occasions, candidates for national office ran on an amalgamation platform. Unification, however, never progressed beyond the talking stage.
By 1909, several independent organizations came into existence, the most prominent of which was the Quaker City Concourse Association of Philadelphia. The independents sought to issue their own bands, which could be purchased for one third of the cost charged by the national organizations, desired local race rules, wanted more reliable timers owned by members, and used band profits to fund cash prizes.
The Federation had reorganized in 1907 as the International Federation of American Homing Pigeon Fanciers to eliminate control by shareholders and vest voting rights in its members. It retained, however, the restrictions, which the independents wanted to avoid. In summary, the Federation paid its Secretary $120.00 per year and its Race Secretary $800.00 per year; required use of the Halsted timer; still appointed all liberators and ordered every survey; it authorized flights in 100-mile increments, from 100 to 600 miles for the old birds and 100, 150, 200, 300, 400 and 500 miles for young birds; all race schedules had to be approved by the National Secretary; detailed national race rules had to be adopted by each district; more than one release from each distance was prohibited; national awards were offered for the fastest speed obtained for old and young bird series; awards were made for noncompetitive records; and special diplomas were awarded for flights which broke pervious records.
In the April 1909 issue of The Homing Pigeon Exchange, Kenneth B. McMicken of Williamson, New York, near Rochester, expanded upon previous views of writers in pigeon journals by advocating:
One national organization
Federating clubs in close proximity
De-emphasizing national records made with tail winds
Replacing national diplomas with cash prizes
A uniform band sold only to members
Self-owned timers
Local race rules
Reduction of salaries by delegating administration to local concourse associations.
These concepts were quickly accepted and fostered by other writers, the most effective of which were Thomas M. Rivel, associate editor of The Exchange and press agent for the Q.C.C.A., and D. C. Buscall, Secretary of the Atlantic Combine.
History and Origin of the American Racing Pigeon Union Part 2
Origin and History of the American Racing Pigeon Union Part 2
The Leading Online Pigeon Racing and Racing Pigeons Magazine – The Pigeon Insider