Varieties of Pigeons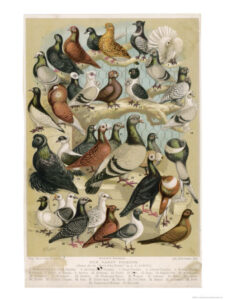 There are very many varieties of pigeons. There are Show Pigeons, Rollers, and Racing Homers. Most show pigeons are not let outside to fly. This group includes pigeons such as Fantails, Runts and Pouters. Rollers can be shown and they also can be let out to fly. They get their names by flying high in the air and then rolling back flips down toward the ground. Racing Homers can also be shown, but most people that have homers keep them for their flying abilities. In nice weather, good homers can fly 600 miles in one day!
The choice of pigeons is up to you. Whatever kind of pigeons you would like to have, they must have three basic things. One is a save and secure loft. As we said before, one that is neat and clean. It must be safe from dogs, cats, mice, rats and people. Secondly, they must also have good food. Thirdly, they must have clean water.