Racing Pigeons on Widowhood, Training and Feeding Explained by Robert Mihaila
The loft-training system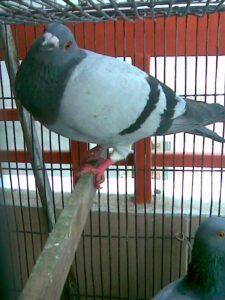 During the winter months my bird's do not train at all, when its time to start training again I want to bring the flying condition back so we begin with loft training. The training starts when all pairs are sitting for about 5 days on eggs. During the week only the cock's are let out at about 16.00 o'clock and in the weekend the hen's at about 14.00 o?clock. First I have to get them instead from entering the youngbird loft into the old bird loft. When this is done the hen's are let out by my wife each day at 14.00 o'clock and I let the cock's out at 16.00 o'clock and all are chased up in order to fly.
When the youngsters are about 5, 7 days old, they are fed twice a day with some picking stone and pressed corn. From that moment on there is only 1 training a day. Around 16.00 o'clock I put hens and cock's out and by then it should be clear for the fancier how the situation is:  they should train easily for at least 1 full hour! When the youngsters are about 17 days old this is getting a little bit less when they get interested to start a new nest again.
When they are sitting on eggs again both sexes are trained separately again. Till the point of 10 days is reached and the birds are put on the widowhood system. The first week of the widowhood everything is done quietly in order to get no nervous cock's that stay out for a night or when trained twice a day they don?t fly the whole day and ruin their condition for a couple of weeks. The second week there are morning training?s also and the third week it is getting to how it should be. They have seen the hens again and are more attached to the loft and their nestbox than the first two weeks.
After the third week the morning training is easy, not forced. The cock's are let out and may enter and find themselves not free to go out again. In the evening it is different. The windows of the loft are open for 1 hour and they may fly free in and out again. After a full hour they all are chased out again and when they enter again they to stay in and are fed.
The road-training schedule
When you fly the widowhood system instead of the natural system you'll find the widowhood cock's train easily 2,5 hour a day. By these training times I do not think it to be necessary to train my birds on the road daily. I only use the road-training as a way to refresh their attitude when I see less interest in flying or fear a "dip".
Before the season starts I train them 4,5 times up to 60 kms when the weather is okay and not too cold. It has happened I put them without any toss straight into the first 90 kms race and found the results satisfying enough.
However when you want to do a road-training I prefer to do it that afternoon when the barley is exchanged for the "good" food, so they can deal with the extra sprinting they have done. Of course in the middle of the week no hens are shown to the cock's ever!
The curing system
Because of my work for the Medical University of Amsterdam (AMC) I'm often considered to be a man who knows all about of medicine. How wrong however is it to give your birds all the products advertised in the magazines! The moment there is trouble be sure you are in trouble! You'll find only the most strong product to work and when you work with that type regularly, when it is really needed, nothing will help your birds to get better again!
Sometimes I make use of medicines, but only when it is needed or when they are because of circumstances close to a "dip" and then be sure it helps.
When you have excellent results over many years you'll almost never get the compliment of having such good birds. No, they talk in groups in the street what you could possibly give to your pigeons! Believe me there are only a few things you can believe in pigeon sport:
good birds;
a healthy loft;
special methods;
a fancier willing to learn all about the above mentioned three points, sees all what happens in the loft and can think like a pigeon!
My well meant advice:
Good strong birds keep the sicknesses out easier. Work on this point! Once you have good strong birds, look for constantly for better and if you find them, buy them! Problems with the respiratory system are always a matter of a bad ventilation. Work on this point! Once you have a good loft: never change it!  Further work on your methods: that means reading, studying, thinking and using your eyes on the loft of a successful fancier. Never change your method totally but pick out the good points from somebody else's method!  And last: don't get lazy!
After the mating in case of not many fights I do not cure for cancer. When they are sitting on their first eggs they get two cures each for a week long: one with tea of herbs and the other with a half cut in bulb of garlic. That cleans the blood and makes it thin, both needed when you start training again.
When they are in the period of sitting on eggs close before they are put on widowhood I cure them for 5 days with Emtryl for cancer. You can only treat with Emtryl when you keep the birds home for a week and be sure to follow the guidelines going with this product! When you do this you keep your birds clean for 4, 5 weeks from cancer. Then use another product on rhonidazol basis for 4 days starting the day of the return. This you can use without doing any harm, and even overdose, between 2 races. When you go into a race over 400 kms when the birds spend more nights in the basket, then race every 2 weeks and you can repeat the Emtryl cure. However do not cure for cancer more than once a month.
When the weather starts getting warmer then you should think about a cure regarding the respiratory system. When it is getting dry in the air pigeons can get slime and a small light cure with a product for ornithosis mostly solves the problem.
And when you have a serious problem: visit a vet specialised in pigeons. For the rest use your common sense and try to be your own vet as much as possible!
"Cures" during the week
Saturday on the return: electrolytes + pure vitamin c.
Saturday evening: propolis.
Sunday: tea of herbs.
Tuesday: propolis.
Thursday: vitamin c.
Friday: when it is hot electrolytes.
That's it. Pigeons themselves can make almost all vitamins out of the food they get. Good food solves the vitamin problem. Giving lots of vitamins in fact is throwing away money. Only vitamin c they cannot make it themselves, so I give that separately.
Propolis is a product coming from bees and is considered a strong natural antibiotic; 12 drops on 2 litters of water keeps them healthy without destroying the good bugs inside. Do you see any secrets?
The feeding system
First of all: buy good quality food! Understand the best corn is always used for human consumption. So the corn used in pigeon mixture is not the very best otherwise prices would be too expensive for us. But were we can choose from there is much difference in quality and I want you to think: why sometimes is a certain mixture so cheap? I give you two examples:
1. The La Plata maize comes from Argentina and is transported in a ship to our distributing firm. That takes quite some time and cert-ain chemicals are used to keep the "merchandise" in "good condition". When the harvest in Argentina was bad there is much La Plata maize offer for pigeon mixtures. You understand why I pay some more in order to have a kind of maize in my mixture that didn't travel such a long time?  2. Most of the barley offered for pigeons or in diet mixtures is European grown. Our own climate sometimes is very wet in the time the barley is harvested and has to be stored on a time it is not yet ripe and with a lot of water in it. To keep it well again chemicals are used.  Fact is the best quality is used for brewing beer. You understand why I buy brewers quality barley?
I hope I have given you reason enough when you decide to buy food for your birds and above all to use your common sense because for a lower price there is a reason!
In my feeding system is Saturday the day of returning from a race and Friday(or Thursday) day of basking.  Saturday on return: some small seeds.  When the hens have been removed: peanuts and enough!  Later on: some picking stone(salt!).  Saturday evening till Tuesday afternoon: hopper fed barley.  Tuesday, Wednesday, Thursday evening: a mixture of racing & breeding of different firms and more than enough so they can choose! After half an hour the leftovers all are removed. Wednesday, Thursday and Friday morning for each 5 widowers 1 handful of small seeds. So they feel hungry again in the evening. It is important you decide when they eat! Is Friday day of basking the hour when you give them the last meal depends on the length of the race, the wind and the weather forecast. What I give as last meal is a mixture of small seeds and the racing/breeding mix. Around 17.00 o'clock some small seeds so they drink again.  When Thursday is day of basking I start with the breeding & racing mixture the Monday evening. Thursday morning only a little bit and Thursday afternoon enough, followed at around by some small seeds.
Want to learn more about widowhood and other training and racing systems? then click here.
Racing Pigeons on Widowhood, Training and Feeding Explained by Robert Mihaila