The Important Pigeon Vitamins
Vitamins are chemical compounds that are natural components of food. Found in minute quantities, feeding vitamins to the pigeon are essential for normal metabolism and health. The vitamins necessary for the performing pigeon are divided into six groups (A, B, C, D, E and K). Within these six main groups are several different sub-types. Each group of vitamins has its own set of functions for the pigeon and when severely deficient in the diet, display their own set of characteristic deficiency symptoms. The effect on metabolism is proportional to the level of deficiency so that when deficiency is mild, the symptoms are vague and non-specific, such as poor performance or compromised health.
Vitamins are generally not made in the pigeon's body in sufficient amounts to meet requirements and so must be taken in as a dietary source.
The six groups of vitamins are divided into two basic types. The water-soluble vitamins (B and C) are not stored in the body of the pigeon and so any deficiency in these tends quickly to have an effect. The fat-soluble vitamins (A, D, E and K) are well stored in the pigeon's liver and so daily intake is less critical.
Each vitamin has its own set of functions:
Vitamin A:
is necessary for healthy skin and mucus membranes, ie the lining of the mouth, sinus and cloaca, etc.
Vitamin B:
is actually a large group of 12 or more different compounds, eg thiamine (B1), riboflavin (B2), niacin (B3), choline (B4), pantothenic acid (B5), pyridoxine (B6), etc. These vitamins perform many vital functions for the pigeon. Being water-soluble, deficiency quickly develops if the birds are not eating.
Vitamin C:
is a metabolic regulator. In most species of seed-eating birds, including pigeons, vitamin C is synthesised in the liver and there is no advantage in supplementation unless the bird becomes debilitated and is no longer able to make enough vitamin C, especially if the liver is damaged.
Vitamin D:
is necessary for the absorption of calcium from the bowel into the body the pigeon. Birds can make their own vitamin C if they have access to light.
Vitamin E:
regulates many of the normal metabolic processes within the cell.
Vitamin K:
is necessary for blood coagulation. These vitamins are found in green plants and can be produced by the normal bacteria in the pigeon's bowel. It is in fact quite difficult to produce a vitamin K deficiency unless antibiotics have been overused and have killed all of the bacteria in the bowel or birds are prevented from eating their own droppings or probiotics are not used.
Important Pigeon Vitamins
The Leading Online Pigeon Racing and Racing Pigeons Magazine – The Pigeon Insider
More articles you may enjoy: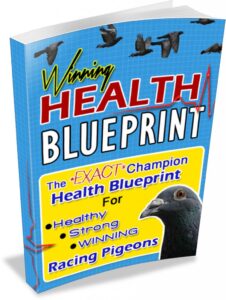 Health is the MOST important thing that any serious fancier needs to know and understand in order to be competitive.
Without good health even the most expensive and winning birds WON'T win races. So health should be the main priority and focus of any fancier no matter if their brand new to the sport or a seasoned vet.
Just having proven winning pigeons DOESN'T guarantee your success because even the fastest most awarded champion pigeon will not win races when in poor health. If you would like to learn the EXACT health program that one champion fancier Uses every season to get his birds in top racing condition before every race then The Winning Health Blueprint is EXACTLY what you are looking for.
"My pigeons became healthier, happier, more active and FASTER after using this proven health blueprint in my own loft"
Health is THE most important ingredient to becoming a successful and winning pigeon fancier HANDS DOWN!
An unhealthy bird will NEVER be successful and the same goes for fanciers who don't keep health a top priority in their loft. So if you want to win more races then you NEED to focus on health! and the Winning Health Blueprint is the exact blueprint to help you do that. Click Here to Learn More!
Click Here to Check it Out Now