Pigeons with Blue Tongue or Blue Tissue
I received a few questions about fanciers having pigeons with blue tongues or blue tip tongues so I wanted to address it with a short post. The blue tongue can mean many different things from something simple such as wrong diet to more serious like bad circulation.
Should you feed high protein right through the week, the digestive system becomes sluggish and the breast may become blue in color with a blue tip on the tongue also. Try changing your pigeons diet and giving your birds a strong dose of garlic in the water to help correct this.
However, When tissues that are normally red turn blue, this is because there is less oxygen in these tissues. This can have several reasons. For example when the tip of the tongue of a pigeon is cold, there will be less blood circulation and the tip will appear blue. It doesn't have to mean anything. If it's associated with blue flesh it can be a problem certainly for birds that have to perform.
Again blue tongue can be caused by multiple factors like inadequate nutrition/supplementing, inadequate training, dehydration (shock in extreme cases), bad circulation etc…Try changing their diet, giving garlic and keeping a close eye on them to see if their health declines and if you have room in your loft quarantine them as a precaution untill you are certain that they are healthy.
Resource,
http://www.pipa.be/de/newsandarticles/ask_the_vet/3880
Hope this helps
-Chris
Pigeons with Blue Tongue or Blue Tissue
The Leading Online Pigeon Racing and Racing Pigeons Magazine – The Pigeon Insider
More articles you may enjoy: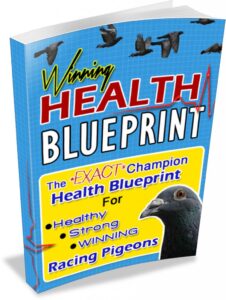 Health is the MOST important thing that any serious fancier needs to know and understand in order to be competitive.
Without good health even the most expensive and winning birds WON'T win races. So health should be the main priority and focus of any fancier no matter if their brand new to the sport or a seasoned vet.
Just having proven winning pigeons DOESN'T guarantee your success because even the fastest most awarded champion pigeon will not win races when in poor health. If you would like to learn the EXACT health program that one champion fancier Uses every season to get his birds in top racing condition before every race then The Winning Health Blueprint is EXACTLY what you are looking for.
"My pigeons became healthier, happier, more active and FASTER after using this proven health blueprint in my own loft"
Health is THE most important ingredient to becoming a successful and winning pigeon fancier HANDS DOWN!
An unhealthy bird will NEVER be successful and the same goes for fanciers who don't keep health a top priority in their loft. So if you want to win more races then you NEED to focus on health! and the Winning Health Blueprint is the exact blueprint to help you do that. Click Here to Learn More!
Click Here to Check it Out Now