Chris Smith's Pigeon Racing Health Program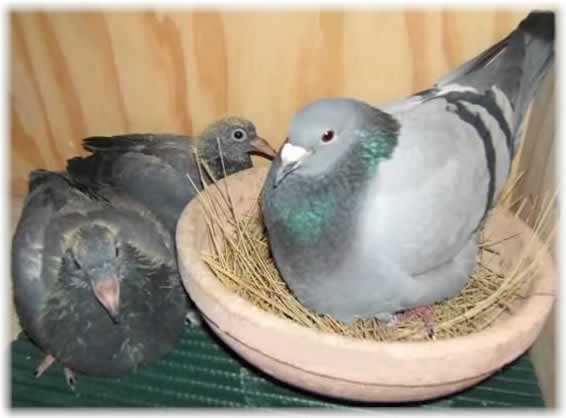 THE THREE BIGGEST ENEMIES AND DISEASES ARE
WORMS (TAPE WORM, ROUND, HOOK, THREAD AND HAIRWORMS.
TRICHOMONIASIS (CANKER) CAN BE SEEN AS YELLOW MARKS IN THE THROAT AND MOUTH
COCCIDIOSIS (ALSO KNOWN AS GOING LIGHT), SYMPTOMS THE BIRDS LOSE WEIGHT AND DO NOT WANT TO FLY.
TREATMENT AND PREVENTATIVE:
I ONLY TREAT MY BIRDS ONCE A YEAR AGAINST THEM, SIX WEEKS BEFORE THE RACING SEASON WITH A QUARTER DICESTAL TABLET PER BIRD IN THE FOLLOWING MANNER: THE NIGHT BEFORE I ONLY FEED LIGHT AND AFTER THEY HAVE DRANK TAKE THE WATER AWAY.THE FOLLOWING MORNING AT 11AM I GIVE THEM A QUARTER DICESTAL TABLET DOWN THROAT, DO NOT GIVE FOOD THEY ONLY GET CLEAN WATER (THEY THROW THE TABLET UP IF YOU GIVE THEM FOOD) TAKE THE WATER AWAY AGAIN THAT NIGHT.GIVE THEM THE FOLLOW ING PREPARED WATER THE NEXT MORNING.TAKE ONE TABLESPOON EPSON SALT WITH A KWARTER TEESPOON TABLE SALT,BOIL THE MIXTURE FOR 20 MINUTES IN1/2 WATER,ADD 1CUP BROWN SUGAR AND BOIL FOR A FUTHER 3 MINUTES,PUT THE ABOVE MIXTURE WITH 4 LITRES OF CLEAN WATER AND GIVE IT TO YOUR BIRDS AND FEED THEM PLAIN FOOD.THE WATER MUST BE LEFT IN TILL 1PM AND REPLACED WITH CLEAN WATER.YOUR LOFT WILL BE IN A STATE.ALL THE TAPEWORMS AND EXCESS INNER FAT WILL BE SOMETHING OF THE PAST.IN APPROXIMATLLY 10 DAYS YOUR BIRDS WILL BE TRAINING AS IF THERE IS NOTHING BETTER IN THE WORLD.
ROUND, HOOK, THREAD, HAIRWORMS
I TREAT THE ABOVE EVERY SIX WEEKS BUT NOT FOR TWO WEEKS BEFORE OR AFTER THE DICESTAL TREATMENT. I USE L-SPARTAKON OR MEDIWORM BECAUSE THEY TREAT ALL FOUR TIPES OF WORMS, PLEASE NOTE: I SAY TREAT NOT CURE, THERE IS NO CURE FOR ANY WORMS. JUST BEFORE THE RACE SEASON BEGINS I TREAT WITH THE ABOVE ONLY ONCE IN THE WHOLE SEASON, THEREAFTER I TREAT WITH THE FOLLOWING: PREDAZINE, RID OR ANTEPAR A WHOLE BOTTLE IN FOUR LITRES OF WATER, ONE OF THE ABOVE IS USED EVERY SIX WEEKS, THERE AFTER EVERY TWO WEEKS AS IT TAKES THE WORM EGGS 14 DAYS TO DEVELOP. ALL OF THE ABOVE THREE ARE VERY LIGHT ON THE BIRDS AND DO NOT HARM THEM, IT ONLY DOES THE BIRDS GOOD.
THIS DISEASE IS ALWAYS PRESENT IN THE BIRDS AND ONLY COMES TO LIGHT WHEN THE BIRD IS SICK OR UNDER A LOT OF STRAIN. THEN IT IS VERY DANGEROUS AS IT EFECTS THE BREATHING OF THE BIRD AND NO PIGEON CAN WIN WITH BAD BREATHING (CAN YOU RUN IF YOUR NOSE IS BLOCKED). I BELIEVE IN A SHOCK TREATMENT AS THERE IS NO CURE AND RACING PIGEONS ALWAYS HAVE CANKER EVEN IF NOT SEEN. I USE EMTRYL TO PREVENT. ONE TEESPOON IN FOUR LITRES OF WATER EVERY 3 TO 4 WEEKS FOR ONE WHOLE DAY. THE FOLLOWING DAY I GIVE THEM ANY GOOD MULTIVITAMIN. FOR THE SHOCK TREATMENT I USE TRICOCINE OR EMTRYL DOUBLE STRENTH FOR 3 DAYS.
IT IS ALSO KNOWN AS GOING LIGHT AND THRIFES IN DAMP & RAIN. IN DIRTY LOFTS IT ALSO COMES IN BAD FOOD. I USE FOUR DIFFERENT REMEDIES SOMETIMES I MIX ALL FOUR TO SHOCK THE PIGEON ESPECIALLY WHEN I THINK THE BIRD HAS GOT E-COLI. TO PREVENT THE DESEASE, I USE THE MEDICINES IN A DIFFERENT ORDER TO TRY AND STOP THE BIRDS FROM BECOMING IMMUNE TO ONE CERTAIN MEDICINE, I USE ONE TEASPOON, FURASOL, E.S.B3, CHLORTETRACYLINE OR TERRAMYCIN TO FOUR LITRES OF WATER.THE FOLLOWING DAY I USE A MULTI-VITAMIN AGAIN.THE ABOVE ARE ALL NATURAL ANTIBIOTICS AND ARE ALL VERY GOOD.
IF YOU USE THE ABOVE AS A BASIC PROGRAM YOU WILL PREFORM WELL, AND THE MOST IMPORTANT OF ALL KEEP YOUR BIRDS HEALTHY
AS FAR AS FOOD GOES WE USE A HI PROTEIN MIXTURE. WHEN WE RACE SHORT DISTANCE RACES, WE MIX 20% BARLEY, BUT AS SOON AS WE HIT 400KM WE REPLACE THE BARLEY WITH MIELIES. I CANNOT MIX THE FOOD ANY BETER THAN SCIENTISTS WHO DEVELOPED IT. DO NOT OVER FEED YOUR BIRDS. WHEN THE BIRDS RETURN FROM A RACE THEY GET A GOOD DEPURATIVE. SUNDAYS THEY ONLY GET BARLEY, THERE IS NO BETTER PURGE.
FOR GENERAL HEALTH, ONCE A WEEK, WE GIVE ALL OUR BIRDS MYCOSAN-T 1 PACKET TO 5 LITRES. WE ALSO TREAT FROM TIME TO TIME WITH VIRKON – S FOR ONE DAY. 1 TEASPOON TO 10 LITRES
ALL OUR BIRDS GET INNOCULATED FOR POX, PARATHAPOID AND PARAMYXO.
Chris Smith's Pigeon Racing Health Program
The Leading Online Pigeon Racing and Racing Pigeons Magazine – The Pigeon Insider