Training Racing Pigeons During The Mid Season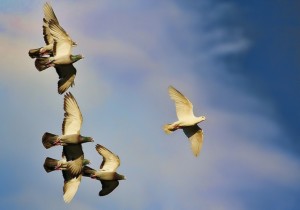 Training mid season is a huge question and there is no one right answer.   It depends a lot on how you manage your team during the races.  If they are all beat down from tough races, then you are in rebuilding mode.  If you are managing your team well, then you should always have some birds that are fresh, some that are in tweaking mode and some that are in recovery or what I call rebuilding.
 
Loft Flying
 
Loft flying should be made available to all birds.  This time spent watching your birds loft fly is a very good way for you to evaluate how the birds are feeling.    Birds that just go off a very tough race will not feel like flyng and you know you are in the rebuilding mode.  Birds that came off a fast short race will probably be zipping around like they haven't been gone and they are ready to go back the following week.   Birds that are in the tweaking mode are loft flying, have had adequate time to rest and are ready for road training.    My suggestion is to offer them as much loft flying as possible.  I live in the country so this is not an issue for me.  If you live in the city where you have neighbors and you can't let your birds get enough freedom that they start roosting the neighborhood houses.   
Road Training "Tweaking"
 
This your time to get them down the road and get their heads back in the game.   For your fresh birds this is just keeping them sharp for the next race and will probably be a few 20-30 mile tosses.   For birds in the tweaking mode, it's probably a good time to work on breaking and racing.   I suggest small group releases or single tosses.   This is the time to train for what's inside their head and to keep them fit.   If you notice that the line of flight or the first lofts clocking are trending, you may have to alter your training path to be on the line of flight.   Often the line of flight is not the straight line you drew on your map.   Take a serious long look at the race results.   Don't look just at the winners and diploma birds.   Look and see where the first few major groups of birds started clocking.  You will then get a good idea of where the line of flight into your area is located and you can adjust your training.   If you are getting your miles in, getting your birds to have successful confident tosses, you are doing well.    The only wrong answer is to not worry about tweaking and just loft fly.   It's always time to tweak something.
 
Rebuilding or Recovery
 
These birds should have loft flying available to them.   This is the time for rebuilding them from a tough race.   This is mostly done with feeding them the right nutrition.   Give them 3-7 days of rest and then put them in the tweaking phase with road training.  Give them confident tosses and when their head is back in the game, get them back on the race sheet.   There are two types of rebuilding birds.   First, birds that came off a tough race, but clocked and did respectable.   They are only rebuilding to get their body ready for another race, their frame of mind is intact.   Second is the bird that was late or even a few days late.   This bird had a huge shock to his system from sitting out a few days, taking the wrong turn, maybe eve over flying by a 100 miles.   Who knows?   If they are out for more than a day, their adventures and perils could have taken them anywhere.  These are the birds that "Tweaking" is designed.   To get their frame of mind and confidence back up to par and to get them into the game.
Training Racing Pigeons During The Mid Season by Domanski Family Loft
The Leading Online Pigeon Racing and Racing Pigeons Magazine – The Pigeon Insider