Craig Goode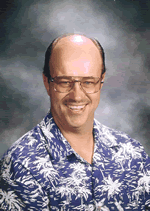 In 1966, Craig's older brothers, Kavin and David got their first homing pigeons from a neighbor. And so Craig's lifelong love of being a pigeon fancier began at the age of five. Together the boys built their first pigeon loft in Smithfield, Utah from scrap lumber and started training and racing pigeons. That was all it took for Craig to get hooked on the feathered beauty of pigeons. He has had pigeons ever since, a total of thirty eight years.
When he was in fourth grade, his family moved to Ephraim, Utah where his dad taught Engineering for a year at Snow College. They had a few pigeons in the backyard, but were unable to fly with a club. Then his family moved back to Smithfield and his dad began teaching at Utah State University.
By the time he was a teenager, Craig was consistently winning races, awards and trophies in his local club. He loved breeding pigeons, always trying to create something better that would fly faster. His efforts paid off and he had some very successful flying seasons.
When Craig was fifteen, his parents moved to Massachusetts for a one year sabbatical with their jobs at Space Dynamics Laboratory, which was associated with Utah State University. He had no choice, but to go along. No matter how hard he pleaded, his parents would not allow him to stay at home with his older brother who was staying in Smithfield to attend Utah State University.
At first it was a miserable experience. He did not want to leave behind his pigeons and friends, but soon after arriving in Bedford, Craig saw a flock of pigeons flying in the neighborhood. He followed them home and quickly made a new friend, Claude Harvey. Claude liked Craig and offered him a job taking care of his pigeons and loft and working part time at his lumberyard.
By the next fall, Craig started flying with the local club. It was a new experience for him. In Utah, he had been treated like one of the grown men who flew pigeons. Here he was treated more like a kid. This was frustrating for him, but he soon earned some respect as his birds started wining races. What was supposed to be one year in Massachusetts turned into two, but Craig made the best of it by really learning from the members in his new pigeon club. He gained a lot from their many years of experience, their ideas and philosophies about pigeons.
When he returned to Smithfield, he was able to finally get his drivers license. This allowed him to really train his pigeons on a rigorous schedule. Soon he was a flyer to be reckoned with in his club. Everyone wanted to beat Craig. With a perfect loft position, this was almost impossible to do. For two years, he won almost every award in the club.
At age nineteen, Craig took two years off to serve a mission for the Church of Jesus Christ of Latter Day Saints. He served in the Arcadia California Mission. This was a wonderful experience for him. While he was gone, his parents and his older sister, Georgiann raced his pigeons. They didn't train much, but they still won a few races. When he returned from his mission, he still had a great team of birds.
Craig and Carol were married in 1982 in the Logan LDS temple. Craig continued to race his pigeons in Smithfield while he attended Utah State University, but did not have quite as much time to devote to them. After graduating in Vocational Education in 1986, Craig and Carol and the two daughters that had been born to their family moved to Sunset, Utah so he could teach school at Clearfield High School.
The first year was very difficult for Craig being away from his pigeons again, but he couldn't have them at the apartment where they lived. They made frequent trips home to Smithfield on the weekends so he could care for them and keep his coops clean. In 1988 they were able to build and move into a new home in West Point, where they have been ever since.
Craig is still a teacher at Clearfield High School, a job he truly loves. He enjoys his association with the youth at his school. His family now has five children, two daughters and three sons. He is active in his church and was recently called to be the Cubmaster in his church affiliated Cub Scout Program. Craig has many hobbies including horseback riding, hunting, camping and fishing. He likes to tie flies and build things. He has trained his own hunting dogs and loves to go pheasant hunting with his children. He takes a yearly horse pack trip into the Uintah Mountains with his brother and the kids.
Craig has spent time coaching his son's soccer teams and is their biggest fan. He tries hard to attend all of their soccer games, baseball games, wrestling matches, scouting events, band concerts and other school activities. He spends a great deal of time with his pigeons, but tries to always put his family first. He has given up flying old birds the last few seasons so he can spend more time supporting his children in their activites. He is a great father, husband, son, brother and friend.
Articles by Craig Goode
Craig Goode (Breakaway Loft)
Sign up for the Pigeon Insider Newsletter, click here to learn more.