John Glemser's Young Bird Tips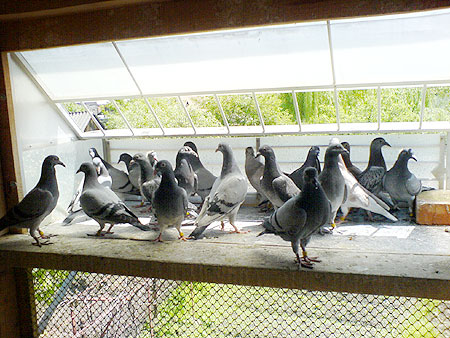 John puts the lights on 24 hours a day, in the breeding lofts. He does this until May 1, and then the lights are turned off. "That is my first hatch only." They are loft flown as soon as possible. The birds are bred early, and John keeps a team of 50 young birds. Once he has them grouping and flying for at least 45 minutes a day, he starts to road train them up to 15 miles.
After the birds have been out to the 15-mile station, he will pull 9 and 10 flights and shut the birds down in the loft. They will go into a full body molt. By shutting them down, it takes all the stress off them. They start molting rapidly and get plenty of baths and a high protein feed.
The next hatch he flies natural and they are not raced until second half of the season. The young birds at this time are all trained every day for 35 miles. Twice a week the birds go to 60 miles. When the second team takes over, the first team will be shut down and saved for old birds. If any culling needs to be done, this is the time. Then all birds are locked down. Six weeks before the first race he will start training his race team again. He finds that after you settle them and train them out to 15 miles then shut them down, it takes all the stress out of them, and they start their molt.
He gets them finished molting before the season starts. "Go slow with them when you first start them up again. It is not the distance you take the birds. It is the confidence that you build in them with many short tosses. It builds confidence in the birds and creates a close bond with the fancier. You must remember young birds are rookies; you are the coach who teaches your team systematically. Once they get it, they will keep it for life. It is your team and they must respond to what you teach. Never push them too hard and hurt them, for they will always remember and not forget the hurt."
John says he does not use any one system, in particular. What he recommends and does at his own loft is a combination of parts from different systems, which fit in according to his loft and birds. He states, "Keep it simple once you start a system and stay with it until the end of your season. If you do not like the results, cross that system off and start a new system. Keep modifying and trying older and newer ideas until you get a system that works for you."
His loft is 12 ft. by 12 ft. with all air coming in through the bottom and out through the top. Exhaust fans are in the roof on a thermostat set for 80 degrees. He keeps this temperature setting all year.
John's first race station is 122 miles to his loft, but he does not train to that station. He only goes to a GPS location 75 mile from his loft. After the young bird races have started, he backs the birds off the longer training tosses and just goes to about a 40 mile training spot, twice a week, and the rest of the training is done by loft flying. John says you must know your birds. You can understand what kind of shape they are in and how healthy they are. He does this by watching their actions as they loft fly. Feed and water are in the loft when they return from training on the road or at the loft. Routinely, the birds are feed another can at night, in case there are late birds from a race or training. "I like to give them a treat once in a while, whether it is candy seed or peanuts, which is hand fed. I feel that is the best way to get to know your birds and help your birds to have trust in you. I believe you must have that bond between man and bird for them to do so well in the races."
A healthy bird will fly for one hour or more without being chased. A super healthy pigeon will fly for 1/2 hour, dip, dive through the sky, and hit his lift, only to look around, do a dance, and be back in the air. Spend time with your birds, get to know them, and they will tell you when they are ready to win. Always go with your first pick for your pool bird when you are looking at the birds prior to shipping, because that is the bird you are going to get.
Road Training
Starting in the beginning of the racing season, he road trains pigeons to get the birds into racing condition. "The team needs to have one long toss or a few short tosses. It depends on how they react in the loft as to what they get. If they are racing in the top 10% of the club and are healthy, they will be raced every week. Activity in the loft will let you know when to race them. Stop those birds which need a rest. Hens and cocks are trained together. Going to the same training location, they are released 20 minutes apart. There may be a crate to go short and the next crate will go long. My main rule is to give them what I think they need."
"Rich Underwood is my pigeon trainer. Together, we strive to determine expected performance for the birds." A GPS is used at the toss location, and the exact distance is calculated. When considering weather conditions, and noting the distance, a very good estimate of timing and expected performance for the birds can be made. In this way, comparisons between expected and actual speed performance are easy to determine. He feels that it is important to train the birds under conditions very similar to the actual races.
John Glemser's Young Bird Tips by John Glemser