Pigeon Roundworms
Roundworms; these worms are fairly large, and measure 1 1/2 to 2″ or more in length. They are believed to compete with the pigeon for nutrients in the intestines, so in heavy infestations, roundworms can be another cause of "going light" because they absorb nutrients that the pigeon needs. In light infestations, these worms tend to gather in the upper part of the intestines, close to the proventriculus and gizzard. In heavy infestations they spread out along the entire intestinal tract and may even be found in the droppings. In large numbers roundworms can effectively block the intestines, and food has a very difficult time passing through.
Female roundworms lay many thousands of eggs regularly, so it doesn't take long for the loft to become heavily contaminated. Soon after they are passed in droppings, eggs aren't able to cause infection in pigeons, even if they are picked up from the floor and swallowed. The eggs need time — about 2 weeks — in damp, cool conditions for a young worm to develop. At this stage, if droppings containing eggs have contaminated feed or grit, or if birds are just picking on the floor and swallow eggs, the young worm hatches in the intestines, and over time, becomes an adult — and the cycle repeats. If loft conditions are too dry, the thick wall of the eggs protects them from dehydration, and they remain dormant until conditions for development are more favourable. They can live in this way for years if necessary.
Pigeon Roundworms
Learn the champions secret winning pigeon racing formula! Click here to learn more
Your guide to pigeon racing and racing pigeons.
More articles you may enjoy: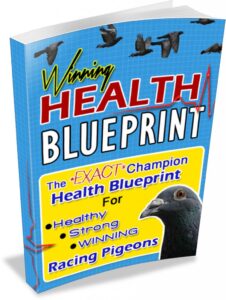 Health is the MOST important thing that any serious fancier needs to know and understand in order to be competitive.
Without good health even the most expensive and winning birds WON'T win races. So health should be the main priority and focus of any fancier no matter if their brand new to the sport or a seasoned vet.
Just having proven winning pigeons DOESN'T guarantee your success because even the fastest most awarded champion pigeon will not win races when in poor health. If you would like to learn the EXACT health program that one champion fancier Uses every season to get his birds in top racing condition before every race then The Winning Health Blueprint is EXACTLY what you are looking for.
"My pigeons became healthier, happier, more active and FASTER after using this proven health blueprint in my own loft"
Health is THE most important ingredient to becoming a successful and winning pigeon fancier HANDS DOWN!
An unhealthy bird will NEVER be successful and the same goes for fanciers who don't keep health a top priority in their loft. So if you want to win more races then you NEED to focus on health! and the Winning Health Blueprint is the exact blueprint to help you do that. Click Here to Learn More!
Click Here to Check it Out Now