The Pro's and Con's of Feeding Racing Pigeons Pellets by Barry Wilson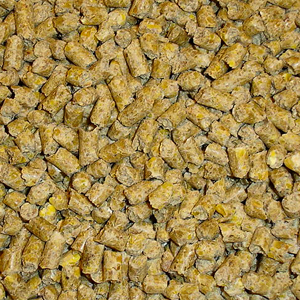 Since my early days of keeping pigeons I have always had to allocate a portion of my income for my pigeons. Back in 1964, that income came from mowing lawns each summer. I would stretch the money out all year long to support my bird hobby. In retrospect, it was good training in financial discipline then and now. Plus I learned that if I could increase my number of customers then I could afford to buy more pigeons.
I'm not sure how long pigeon pellets have been around, but I remember buying a bag to feed my birds in the late 60's. The birds (then Rollers) did not like them. Today the pellets still look the same, even though I'm sure the analysis of ingredients has changed. The bottom line, however, is still the same, pigeons still prefer grain to pellets.
The point of this article focuses on the reactions of feeding pellets that I initiated 8 months ago. I had gone to my feed dealer to pick up my usual 400 pounds of grain, a brand that I had fed since '64 (when it was $2.80 per 50 lb bag). The price had recently climbed to $12.50 for 50 lbs of all purpose mix. Grain prices along with the volume I was using were beginning to stretch my feed budget, which had been borrowed from a few months earlier for the increase in gasoline, which was now being reconfigured for the increase in home heating fuels. So at this point I was very much aware of how much I was spending on the birds each month, and it was too much!! When my feed dealer began explaining how my usual brand of feed was switching to new 40 pound bags for $11.50, I quickly calculated that not only was I now getting less feed per bag, but I would be paying more per pound too. Not fair!! So after a few minutes of venting my frustrations, I settled for buying up all the old 50 lb bags still in stock. At least I felt some sense of victory, short lived as it was. I had seen the ad in "Pigeon Debut" for the Kent brand of pellets called "Showtail", and eventually went back to my dealer where I was able to get more information. The ingredient analysis looked good with protein at 18%, fat 4%, fiber 5%, plus the usual calcium, phosphorus, salt, and vitamins A, D, and E. Best part was the price at $7.20 per 50 lb bag!! So I ordered a ton and soon began blending pellets into grain over a 2 week period. Now the results, the pro's and con's of pellets:
ADVANTAGES
It is still cheap, even now at $7.30 for 50 pounds.
Some dust residue, but very little bag waste and almost no uneaten pellet waste.
Easier than grain for parents to feed; fuller crops in youngsters.
Nutritionally complete. Squabs have excellent weight and health.
Grit, about a 90% reduction; more money saved.
Sparrows and mice….gone!! They don't seem to like pellets much.
Any grain (corn, safflower, etc.) offered makes the birds flock to you!
DISADVANTAGES
Birds will starve themselves waiting for grain treats if offered too often. I have learned not to offer the feeders any treats in the breeding season.
Increased water consumption; at least 30% more water.
'Caking' of soft pellets on the beaks, face, and wattle of short faced squabs beginning around the age of 3 weeks. Also occassionally in the roof of mouth in older birds.
Very moist droppings; slow to dry up and tends to collect on the feet and toenails unless popular perches are cleaned daily in the winter. Birds that get "bombed" perching below others are quickly a mess in the winter.
More (lots more) droppings = more cleaning. And with the extra moisture, weekly cleaning is almost mandatory unless a clever loft/perch design is well thought out. A related problem for me this last winter was where to put all the extra loft litter. We had had large amounts of snow this past winter that remained until spring making it a real chore to maneuver manure around the yard.
Young seem a little slower to eat on their own. Separating them and blending safflower with pellets helps get them going.
Dirty muffs. If muffed birds spend much time on the floor, even a daily cleaning won't keep those muffs clean in the winter. Getting the birds to use individual perches really helps.
Wet nests. By the time the squabs are 3 to 4 weeks old the nests are a wet mess and must be completely cleaned. This moist environment probably added to the mite population explosion this year.
In conclusion, if given a choice of what to feed without concern for price, I would feed grain again. But with the present volume of birds I now keep, that is not an option. But with a better loft design, floor, and/or perches, pellets would be a good choice, especially for short face squabs because of the feeder's ability to better fill the crops with pellets. I guess my number one complaint with pellets is the increased amount of time it now takes to clean. It's overwhelming!! (Although my gardens are doing really great this year!!)
 The Pro's and Con's of Feeding Racing Pigeons Pellets by Barry Wilson
The Leading Online Pigeon Racing and Racing Pigeons Magazine – The Pigeon Insider