The Pigeon's Medicine Cabinet
ERYTHROMYCIN.(Gallimycin)- An antibiotic generally effective against respiratory infections,especially Mycoplasmosis. May also be useful against certain Staph infections. DOSAGE: 3-6 tsp per gallon for 4-7 days; PREVENTATIVE DOSE: ¾ tsp per gallon
OXYTETRACYCLINE (Terramycin)- A broad spectrum antibiotic useful against many types of infections, but often not highly effective. Most usually recommended for use after races as a general preventative Dosage: (for concentrate) 1 tsp per gallon.
CLORTETRACYCLINE ( Aureomycin) A broad spectrum antibiotic similar to Terramycin but probably more effective. Dosage: (concentrate) 1-2 tsp per gallon for as many as 15 days if positive results are noted.
LINCOMYCIN/SPECTINOMYCIN ( L/S 50 ) An antibiotic consisting of two synergistic antibiotics which are highly effective against Mycoplasmosis. Considered the drug of choice in treatment of respiratory infections. Spectinomycin may also be very effective against Salmonella and E-Coli. Dosage: 1 tsp per gallon for 5-7 days.
AMPICILLIN- An antibiotic in the Penicillin family which is effective against most strains of E-Coli, and probably other infections, but not a cure-all. Dosage: for 200 ml bottles. Make a stock solution and use 7 tsp per gallon for 7-10 days. Keep refrigerated
ENROFLOXACIN-(Baytril)- An antibacterial agent effective against both gram negative and gram positive bacteria. Considered the drug of choice against parathypoid if birds have not been vaccinated. May also be very effective against E-Coli Dosage: ¼ tablet twice a day for 5-10 days
SULFACHLORPYRIDAZINE(Vetisulid or Pyradan) A sulfa drug to which most strains of E-Coli are sensitive Also an effective coccidiostat. Dosage: 1 tsp per gallon for 5-7 days.
TYLOSIN (Tylan) – Most effective in concentrated form. An effective drug against respiratory infections, especially Mycoplasmosis. Dosage: 1 tsp per gallon for 5-7 days I mix this with L/S 50 for very good results.
Amprolium ( Amprol or Corid)- An inexpensive and very effective coccidiostat. Considered the drug of choice for coccidiosis…. Dosage: 1 tsp per gallon for 3-5 days. For an outbreakl; 1 tsp per gallon for 5 days than ½ tsp per gallon for 7 additional days.
MEBENDAZOLE(Telmentic)- A general wormer. Considered the wormer of choice by many as it is highly effective against all worms except tapeworms. Dosage: ¼ tsp per gallon for 5 days. Repeat within 10-15 days.
See also Pigeon Medications Part 1
The Pigeon's Medicine Cabinet
The Leading Online Pigeon Racing and Racing Pigeons Magazine – The Pigeon Insider
More articles you may enjoy: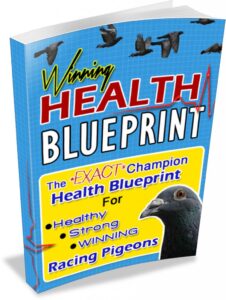 Health is the MOST important thing that any serious fancier needs to know and understand in order to be competitive.
Without good health even the most expensive and winning birds WON'T win races. So health should be the main priority and focus of any fancier no matter if their brand new to the sport or a seasoned vet.
Just having proven winning pigeons DOESN'T guarantee your success because even the fastest most awarded champion pigeon will not win races when in poor health. If you would like to learn the EXACT health program that one champion fancier Uses every season to get his birds in top racing condition before every race then The Winning Health Blueprint is EXACTLY what you are looking for.
"My pigeons became healthier, happier, more active and FASTER after using this proven health blueprint in my own loft"
Health is THE most important ingredient to becoming a successful and winning pigeon fancier HANDS DOWN!
An unhealthy bird will NEVER be successful and the same goes for fanciers who don't keep health a top priority in their loft. So if you want to win more races then you NEED to focus on health! and the Winning Health Blueprint is the exact blueprint to help you do that. Click Here to Learn More!
Click Here to Check it Out Now