Training Racing Pigeons – From Beginning to The Roof
From the Beginning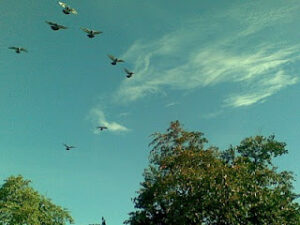 Your young birds are at 21-30 days and out of the nest. They should be in their own compartment where they are beginning to learn social behavior with their fellow flock mates. Very shortly their training will begin. When we discuss training we are including training to the trap or entrance to the loft, training to come to your "call", loft flying, learning where to perch and not perch (like your neighbors house) and finally road training.   When you feed your birds you should whistle or call to them. What ever method you choose it should be something that another member of your family can do as well. The birds will associate this whistle with being fed. Do this every time, every day, all year with all your birds. This will pay big rewards on race day. It will also allow you to get that "spooked" pigeon down
Out of the Loft  
Once your young birds are able to move well within the loft, and are taking the higher perches it is time to get them out of the loft.  Do not put them out on a full stomach. Do not let them out unattended as hawks may capitalize on this and you will suffer a major set back. If you are late getting your birds out of the first time, they will be "too strong on the wing" and may get up and fly before they know how to control themselves.   This is a major cause of "fly aways".   The best way to introduce them to the out side world is to create a sputnik cage on top of the landing board.   This allows you to put them out on the landing board where they will have to maneuver through your trapping system. This also allows you to get them out a litter earlier. They are also protected from the predators that are just waiting for them (like hawks). After a few days when they have learned the trapping system you can let them out on their own.
Roof Training  
You can let them go outside on their own without the sputnik cage. The racing pigeons will stay on the roof as long as they are not getting too strong on the wing. They will peck at every thing as though its fascinating.  Like toddlers this whole new world is new for them. As stated do not let them out on a full stomach. After the designated time "call" them in for dinner. Do not put the full amount of feed in the feeder as some of the birds may not come in and the first ones to the feeder may eat too much. The important thing is to get them trained to come in when called. There are two purposes for this. One is to get them in quickly upon arrival from a race and the other is to get them disciplined to come in when you need them. Such as when you want to train the in the morning and then have a evening training toss.
You accomplish this by keeping an edge to their appetite and feeding them on a regular schedule. They adapt to a routine fairly quickly and if you deviate from this routine, they will very quickly let you know it. If they are out and you miss the regular feeding, they will come find you. Consistency in a routine is a staple towards good pigeon handling.
If you have been feeding the birds properly, they will immediately try to get into the trap and get inside to eat. Some may be confused and walk to the edge of the roof where the walk in door is located. Like children, they are processing their world in the same way. Be patient. You may even have one or two stay out over night. After a few days of this, all young birds will know how to get inside the loft and trap. If their being fed properly they will not mess around unless they get "spooked".
Spooking is a term used to explain when a young bird become nervous, anxious or scared. They can get spooked when they see a large bird they are not familiar with such as a hawk, crane, large black bird etc. They can get spooked over a loud noise such as gunfire, an exhaust misfiring, a car door slamming. When they are spooked something minor can cause them to go airborne. Be patient. Any bird with intelligence will settle down and come back to the roof. It may take hours but it will happen.
Sitting Out Over night  
Occasionally you will get young birds that will set out over night. If you live in the city, this will not be very bad. The next morning let the birds out again and usually the over night offender who spent the night on the roof, or in the tree in the dark, scared and without dinner will come inside with the other birds when dinner the following evening is fed. If you live in the country, like I do, sometimes that one over night stay out is fatal. We have owls and without all the buildings and other "clutter" the racing pigeons are very easy pickings for the owls. Owls do not hunt by sight but hunt by hearing. They have extremely fine hearing. One method to thwart an owl is to place a small radio outside the loft and let music play at a modest volume. Do not set the radio out until it is absolutely dark. The bird on the roof will then not fly up and the owl will have a more difficult time hearing your bird and there for preying upon him.
Night Flight  
This has never happened to me, but it happened to one of our members recently. It has also happened to my father and other fanciers in my club. A night flight is when the birds get spooked just before dark and all go airborne. The birds will fly around in the dark endlessly. The danger is that they will hit walls, wires, trees and other hazards. This member of our club gives his birds open loft. He calls them in to eat cut lets them still have open loft so that they will fly around even after dinner. The racing pigeons get more flying time, but on one evening, a hawk hit his loft just before dark sending the entire young bird flock into a night flight. The next morning more than half the birds did not return and some of those that did had career ending injuries. One bird came back with the top portion of it's beak missing. I am not a fan of open loft until dark. I hope you never have a night flight, and I hope I never have a night flight. But be forewarned…..do not create habits that allow for the possibility of a night flight. Also, understand that hawks love pigeons. Hawks will catch on to the fact that a ready meal is available. If you have open loft and a hawk catches on, he will stop hunting other prey and make your loft his prime target.
 The Leading Online Pigeon Racing and Racing Pigeon Magazine – The Pigeon Insider