Jack Barkel | Website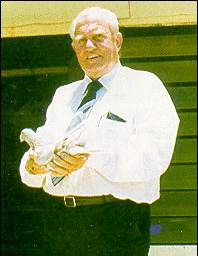 JACK BARKEL must surely have been the youngest serious keeper of fancy pigeons of all times. He started this hobby, which was to develop into an abiding passion and fully-fledged sport later on, in 1941, at the tender age of five!
Jack remembers: The Second World War was in full swing, and prohibited youngsters from keeping racing pigeons. However, in 1946 my father gave me the Air Raid Shelter as a pigeon loft, where I may say, I had spent the majority of the previous five years, while the bombs of war were dropping all around us.
Jack and his family lived on the North East Coast of England, which was a prime target for enemy bombs, being a coal mining and ship building area. Hardly conducive to peace of mind for birds of any kind!
However, all wars eventually come to an end, and in the mid-fifties Jack and his younger brother Sid started competitive pigeon racing, racing as the Barkel Brothers. This continued until lack emigrated to South Africa in 1965. Sid and his three sons still race as Barkel Bro's, from the same position as they did all those years ago.
The name brought nostalgic memories to mind, and later taking his sons to the United Kingdom in 1988, they put pressure on Jack to start up in South Africa again, and race as Barkel Brothers S.A.
Jack would like to pay tribute in this article to his brother Sid, of Ryhope, Sunderiand, for sending him some of his most treasured pigeons as a gift, for there is no way he would have parted with his best, other than brotherly love.
And what a superb gift this was! Sid offered lack 6 pairs of champion stock pigeons, and in February 1989, the 12 birds arrived safely. They were Busschaert-van-Bruane and Kozajek Opal Jansens, and constituted the start of the Barkel dynasty in South Africa.
Accomplishments
Matjiesfontein open 1 (960km): 2nd, 14th, 1 7th, 20th, 21st, 24th
Matiiesfontein open 2 (960km): 2nd, 3rd, 9th, 10th, 15th, 15th, 2oth, 21st, 25th, 26th
Touwsrivier Open 1 (1000km): 3rd, 4th, 5th, 9th.
Touwsrivier Open 2 (1000km): 1st, 2nd, 3 rd, 6th, 8th, 11th, 12th
Articles by Jack Barkel,
Jack Barkel | Website
The Leading Online Pigeon Racing and Racing Pigeons Magazine – The Pigeon Insider